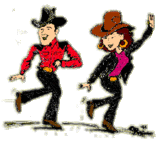 pic from gerrit-09
Having learnt line dancing for the past few years, I have had the opportunity to attend line dance parties, usually organized as a fund-raising event for charity. The ticket would usually cost below RM50, inclusive of a buffet dinner and a bottle of mineral water. These parties would be held at a venue that would fit about 200 to 250 people, mainly ladies.

At one such party, I had arrived early and taken a seat with my friends from the same dance class, and we were making observations about the people around us. The ladies who attend these parties usually wear jeans and boots (or dance shoes), and T-shirts embellished with much sequins and sparkly material. There seems to be an unspoken rule that each person must try to outshine the other in their attire. We always look out for this one lady who usually wears an eye-popping low-cut blouse. We (and I'm sure all the guys there as well) wonder if we would get to see more than just cleavage with all the shaking and jiggling when she dances!

Everybody gets a door gift and their hand stamped with ink so that there would be no gate-crashers coming in without a ticket. If you need to use the toilet (located outside the hall) you would need to show the mark on your hand before you are allowed back in…so we remember not to wash our hands with soap after we answer nature's call, in case we wash away the ink…hmm…not much hygiene is there?

The music starts on time, so latecomers would just have to miss out on the first few dances. When I am dancing I would keep far away from this particular lady – she doesn't know the dance steps but she joins in anyway and usually moves in the opposite direction from the rest of us. She has bumped into me before, stomping on my toes…ouch! Then there is another lady who dances 'like there is no tomorrow'- every single part of her body moves to the beat and I frequently get distracted from my steps when I dance beside her, and start giggling uncontrollably. Some of the younger guys are also just as enthusiastic and it is wise not to get too near to them or risk injury by getting a swat across the face from their flailing arms (they call it being expressive…)

After FIVE hours of dancing and eating, I am all too ready to leave the pulsating music and sweaty bodies and head for home…my feet feel like rubber….but it had been great mayhem...er,I mean...fun.